Online Reviews Impact Sales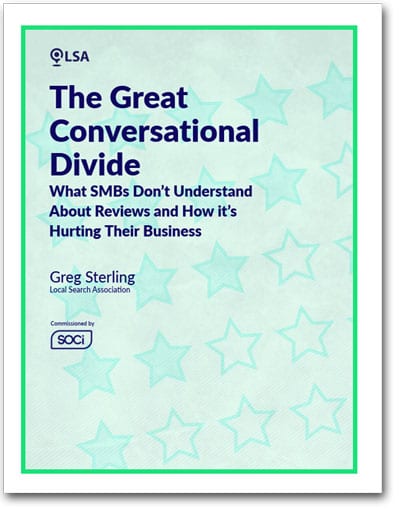 Thank you for showing interest in the "Half Your Competitors Have No Online Reviews" email a couple of days ago.
At a time when 97% of consumers go online to find where to buy products and services, it's a great time to set your company apart online!
If you are interested in learning more about how to leverage reviews to close more sales, improve your organic search results and enhance your reputation, check the topics below and download this great 18 page report from the Local Search Association below.
You can see how reviews build a stronger online presence and sales opportunities – and how to leave your competition in the dust.
Collecting Online Reviews… A Great Competitive Opportunity 
Consumers Want to Say Something Good Online
Winning on The Web
Success is Measured in…Stars
Be A Star & Get More Business 
Crazy Online Review Stats  
What Have You Done Lately?
Feed Consumer Behavior
Half Competitors Have No Online Reviews
At Reputation Management Partners we help companies gather reviews and leverage them to increase sales and improve your website's SEO.
Receive a FREE website review to identify opportunities to improve performance and productivity.
Download The Great Conversational Divide Report Free!
Website Review

Meta Data information
Content Review
Website Structure
Website Function
Site Map
Keyword footprint
Link structures
Data Management | Hosting Review

Hosting Security
Hosting Speed and reliability
Plugin and Core Software Updates
Eliminating useless or harmful site elements
Image and Video optimization

Compress
Optimize – Lazy Load Images
Why Reputation Management Partners?
Reputation Management Partners specializes in helping businesses gather, publish and highlight online reviews to increase sales opportunities and improve Google SEO results for your website.
Gather – using various online and offline strategies we build your volume of positive reviews.
Publish – getting reviews to Google, Yelp, Facebook and other heavily read review sources.
Highlight – publishing positive reviews on your site to assist in converting visitors to direct calls.
Leverage – new high value content on your site makes it more valuable to search engine visitors.
SEO – content with more value to search engines contributes to better organic search results.
Increased Sales – websites with better content get better search results, create more traffic, positive reviews create more calls and visits which turn into satisfied customers.
Copyright ©2021 Reputation Management Partners All Rights Reserved